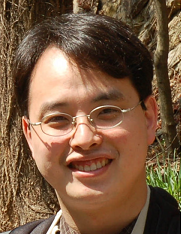 email:
wonhee.Cho@mail.huji.ac.il
wonheecho@gmail.com
---
Pesonal website: https://wonheecho.net.
Wonhee Cho (Ph. D. Yale, 2014, East Asian History) is currently a full-time researcher and project manager at the Jangseogak Archives, Academy of Korean Studies (韓國學中央研究院 藏書閣 研究員).  As a project member from 2014 to 2016, Wonhee translated and tagged data of more than 65 individuals from the Yuanshi biographies, a work consisting of 141,610  English words and 9,633 Chinese characters.
As a historian of the Mongol empire (1206-1368), Wonhee is particularly interested in religion, comparative empire studies, digital humanities and cross-cultural interactions. His current book project, Empire and Religion: Politics of Difference and Negotiation in the Mongol Empire (1206-1368), examines the different religions of the Mongol empire in China – Buddhism, Daoism, Christianity, and Islam – and how they interacted with the empire.
His academic interest in the Mongols and other nomads, and their interactions with other peoples is closely related to his life, since he constantly moved around different places and adapted to different cultures. Born in South Korea, Wonhee lived in Australia when he was three to nine years old, and some people say they can still hear his Australian accent when he speaks English. He studied at Seoul National University as an English language and literature major (B.A.), joined the Asian History Department M.A., a program where he studied Chinese, Japanese and Persian. He has completed his Ph. D. Studies at Yale University, and while he always says he has lived in the States for six years, he often forgets that during that six-year period he spent a whole year at Beijing University as a visiting research student. He worked as a post-doc at at NYU Shanghai, and the Hebrew University of Jerusalem.
EDUCATION
2014 Ph. D., History, Yale University (New Haven, CT, USA)
Dissertation: "Beyond Tolerance: The Mongols' religious policies in Yuan China and  Il-Khanate Iran (1200-1368)" (Advisor: Valerie Hansen)
Qualification Fields:  Pre-Modern China (Valerie Hansen), Modern China (Peter Perdue), Tibetan Buddhism (Andrew Quintman), Religion in Early Modern Islam Empires (Alan Mikhail)
2008 M. A., Asian History, Seoul National University (Seoul, South Korea)
2002 B. A., English Language & Literature, Seoul National University (Seoul, South Korea)
PROFESSIONAL APPOINTMENTS
Jul. 2017 – Present, Postdoctoral Fellow and Project Manager, Jangseogak Archives,
            Academy of Korean Studies, South Korea
2017 – Jun. 2017, Postdoctoral Fellow, NYU Shanghai, Center for Global Asia
2014 – Feb. 2017, Postdoctoral Researcher, European Research Council /
            Hebrew University of Jerusalem "Mobility, Empire and Cross Cultural Contacts in Mongol Eurasia" Faculty of Humanities, the Hebrew University of Jerusalem (PI: Michal Biran)
ARTICLES
"From Military Leaders to Administrative Experts:
The Biography of the "Treacherous  Minister" Temüder and his Ancestors" Asiatische Studien (accepted for publication)
"Negotiated Privilege: The Tax Exemption Policies concerning Religion under the Mongol-Yuan Empire" Journal of the Economic and Social History of the Orient (accepted for publication)
(In Korean) "An Examination of the Status of the Muslims in Yuan China: Based on the Analysis of Stone Inscriptions," Ewha Sahak Yeongu [A Bulletin of the Ewha Historical Institutions] 54, 2017, pp. 213-245.
(In Korean) "The Establishment and Significance of the Buddhist, Daoist, Christian and Manichaean Institutions around the Mongol Conquest of Southern China,"
Dongyang Sahak Yeonggu [Journal of Asian Historical Studies] 135, 2016, pp. 211-244.
(In Korean) "Digital Humanities and Yuan Studies: An Introduction to the CBDB and its Potential," Chung'ang Asia Yon'gu [Central Asian Studies], 21-1, 2016, pp. 117-133.
(In Korean)  "Muslim and non-Muslim Relations in the Ottoman Jerusalem, 16th to 18th Century – Aspects of Co-existence and its Limits –", S.N.U Papers on Asian History, 29, 2005, pp. 58-72.